Here at Cheeky Cherubs Early Years Schools, we have taken the best parts of the many different educational approaches from Síolta to Aistear, HighScope to Reggio Emilia, Steiner to Montessori and used them to develop our own unique approach to the Early Years.
What is the Cheeky Cherubs Approach?
The teachers of Cheeky Cherubs focus on the child's strengths, what they can do, not what they can't do.
A core principle of the Cheeky Cherubs approach is that children learn by doing and this hands on experience can be seen throughout our centres from 6 months right up to school going age.
Children are involved in every part of their day and are encouraged to do what they can for themselves keeping in mind what is age and stage appropriate.
The Early Years Educators at Cheeky Cherubs follow the emergent curriculum. This means that activities are planned based on the interests of the children and are flexible to allow a range of experiences.
The children state their intentions, execute their plans and recollect on their experiences on a daily basis throughout the day at Cheeky Cherubs promoting independence, achievement, concentration and self-confidence.
Cheeky Cherubs has a flexible fun-based partnership approach rather than an overly directive mind-set of the educators.
All materials and interest areas are planned with the child in mind. They are age and stage appropriate and accessible to the children.
'Upcycling' and reusing materials in different ways is a big part of the Cheeky Cherubs approach. There is a huge focus on natural and everyday found materials in our schools.
Children are encouraged and supported to make choices.
We have developed our own School Readiness programme.
Play underpins our entire approach to curriculum. Play is vital in the Early Years.
Children are part of the Problem Solving process in Cheeky Cherubs and are encouraged and can contribute to solutions in matters that concern them.
For a more in-depth explanation of our approach or to see it in action, please contact us and we would be more than happy to meet with you.
What is Siolta?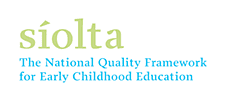 Síolta is the national quality framework for Early Childhood Care and Education in Ireland. We have achieved a Level Four in the Síolta Quality Assurance programme which is a great achievement that we are very proud of.
Please follow this link for further information: www.siolta.ie
What is Aistear?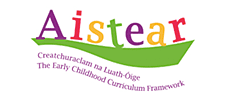 Following consultation with the early childhood sector, the National Council for Curriculum and Assessment (NCCA) has produced Aistear, a curriculum framework for children from birth to six years.
Please follow this link for further information: www.ncca.ie